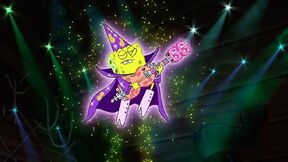 "Goofy Goober Rock" is a song that is performed by SpongeBob SquarePants at the climax of The SpongeBob SquarePants Movie. It is a rock version of the "Goofy Goober Song." In real life, the song was performed by Jim Wise and Tom Rothrock.

It is an alteration of "I Wanna Rock," originally performed by Dee Snider of the band Twisted Sister.

During the song, SpongeBob frees Squidward, Mrs. Puff, Sandy, Gary, King Neptune, and the Bikini Bottomites from their mind control.





To Vote for the next Song of the Month, go to Hero Song Wiki:SotM
For a complete list of Song of the Month winners, see here.

---
The Hero Song Wiki is associated and affiliated with other Wikis that deal with heroes and good. Links to the following partner Wikis can be found here, so go and give them a look as well!
---

We are currently housing 292 articles, and 571 files.

We need YOU to help us expand and add articles to this wiki!

For starters, please sign up to create a FREE personal account, or log in if you already have one, and review our editing rules.
---
---
If you're new to Wikia, please use the above links to get started.
If you already have editing experience, and you want to contribute an article about a song, use the box below to create it: <createbox>width=30</createbox>

---

---
The Hero Song Wiki is a database cataloguing all of the songs by heroes, about heroes or with heroes. It also includes themes and instrumental works that are written for these pure characters or embody their heroic ways.

For more information about how you can get started here, please check the "Help and Contribute" section below, and be sure to mind our rules. Thanks for stopping by!

Before contributing, please read our rules and abide by them.

SPELLING & GRAMMAR - PLEASE use correct spelling and grammar on this wiki. This includes punctuation, capitalization, and spacing. Do NOT make a page with poor spelling and/or grammar and leave it to someone else to fix. If a page is noted to have an excess of spelling and/or grammar mistakes, it will be marked for cleanup.

NO FAN-CREATIONS - While we fully support the creation of original and parody/homage characters and their songs, they have no place on this wiki. The songs MUST come from a professional, published source. If the songs are based on an existing piece of media, they must be coming from a professional or well-known musical artist. Most of the songs featured here will have to be available for purchase on a music site such as iTunes, Spotify, or Loudr.

PLAGIARISM - Plagiarism is one of the most frowned upon things on this wiki. If a page is recognized to have been copied from another place on the internet (even other wikis), it will be evaluated by an admin and deleted. The author of the page will receive a warning the first time, a temporary ban the second time, and a permanent ban on the third.